LINE REPAIR Hydra Theraskin+HA
Revitalize Your Skin with Our
Best Selling Product!

LINE REPAIR Hydra Theraskin+HA

Special Sale

25%

off $64
your special price $48*

* get free shipping with your order
* discount applies automaticaly at the checkout

Are you ready to turn back the clock and reveal your most radiant self? LINE REPAIR Hydra Theraskin+HA is here to make it happen!
Our potent formula, enriched with Hyaluronic Acid and NMF ingredients, is designed to transform your skin, leaving it intensely plump and deeply hydrated.
The New Generation of Theraskin is enhanced with an advanced encapsulated Hyaluronic Acid based on unique patented technology. The encapsulated Hyaluronic Acid enables penetration into deep-down skin layers for effective action. The capsule's layers gradually open and periodically release Hyaluronic Acid in a controlled manner, for a long lasting effect. This causes a significant rise in the Hyaluronic Acid levels of the skin, which effectively fills out fine lines and wrinkles. The encapsulated Hyaluronic Acid has proved to create a youthful and smooth look within one hour.
WHAT MAKES IT SO EFFECTIVE?

Award Winning Hyaluronic Acid:
A breakthrough anti-aging serum that has 3 different types of Hyaluronic Acid. Pure HA for a radiant surface glow. Smaller molecular weight HA for deep skin penetration. Encapsulated HA for lasting, intense moisture.

-1.2 Million Units sold a year

- 68 Countries

- For every skin type

-Anti-aging properties

-Smoothing

-Boost skin hydration
KEY INGREDIENTS:

Hyaluronic Acid: This moisture-locking superstar enhances volume and provides long-lasting hydration, ensuring your skin stays dewy and fresh.
Hygroplex: A natural moisturizer tailored to your skin's water-binding capacity, effectively smoothing and hydrating your skin for a supple, youthful look.
Wrinkle Smoother: Harness the power of plant- based on Acmella Oleracea extr. - to prevent expression lines and visibly refine your skin's texture.
Say goodbye to wrinkles!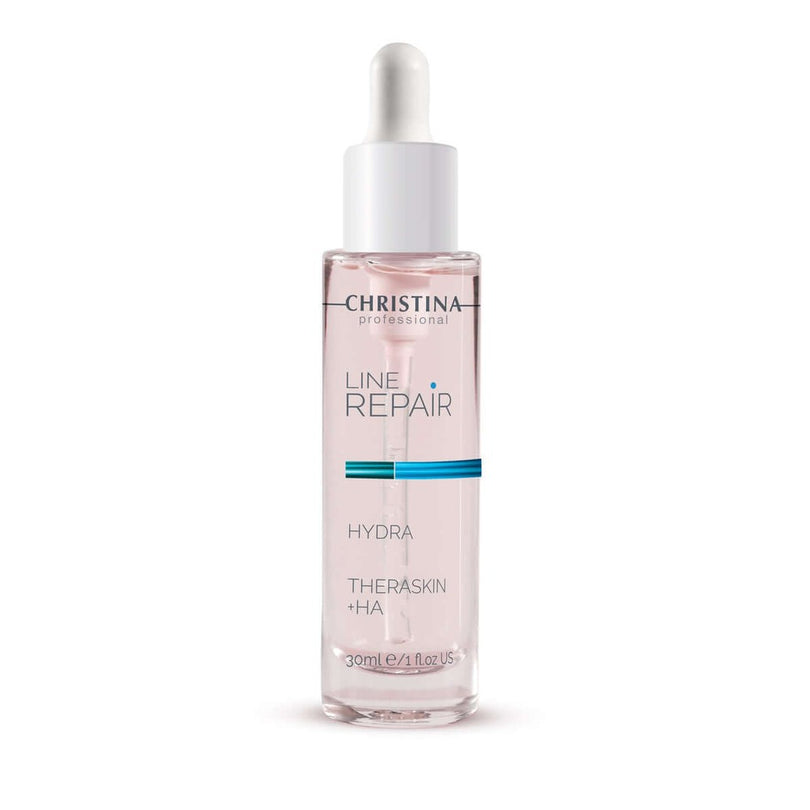 LINE REPAIR Hydra Theraskin+HA 30ml
Powerful anti-ageing and hydrating serum. Based on hyaluronic acid and NMF ingredients. Intensely hydrates and plumps the skin for a youthful, supple appearance.
Hyaluronic Acid-potent hydration - attracting molecule promotes moisture retention for lasting hydration and increased volume.
Hygroplex- physiological moisturizer fully adapted to the water-binding capacity of human skin. Contains ingredients similar to the natural moisturizing factors (NMF), effectively moisturizing and smoothing the skin.
Wrinkle Smoother– based on Acmella Oleracea plant, prevents the appearance of expression lines and visibly smoothens the skin surface.
Don't miss out on this exclusive special offer-- Limited time only!
Get ready to embrace the skin you've always dreamed of!

But that's not all! Explore our Line Repair HYDRA collection, your ultimate solution for restoring elasticity and combating premature aging. These products feature botanical extracts, multiple hyaluronic acid molecules, and lactic acid—all working together to enhance volume and ensure prolonged hydration. Unlock younger, healthier, and more hydrated skin today!